i-view
™
product improvements


New on/off button
The i-view
™
now incorporates a new on/off button which helps to prevent the possibility of the user accidentally switching the device off during use, by requiring the user to depress the button for >0.5 seconds before it will turn off.

In addition, the i-view
™
will automatically turn itself off after 20 minutes of continuous use in order to reduce the potential for battery depletion if the device is accidentally left on. If required, the device can easily be turned back on by depressing the on/off button again.
Increased shelf life
When i-view
™
was originally launched in 2018, the shelf life was three years from the date of manufacture. As additional test data became available, the shelf life was increased to five years from the date of manufacture (the increase cannot be applied retrospectively to devices originally manufactured with a three year shelf-life)..

This should be particularly beneficial in the pre-hospital sector and for organisations who include the device on difficult airway carts or resuscitation trolleys, where device use may be infrequent. The expiry date is etched on to the top of the device itself.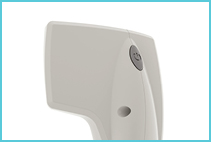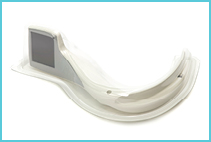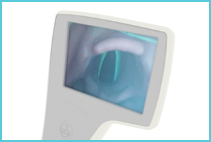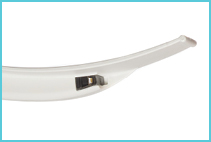 i-view
™
published evidence


The first clinical evidence available regarding the i-view came in the form of a poster, entitled 'i-view
™
the future? Initial experience with a novel disposable videolaryngoscope'.
1
from King's College Hospital, which reported on the use of i-view
™
in 30 adult patients requiring tracheal intubation for surgery. First attempt success was 86.7% and there were no reports of hypoxia or traumatic complications. A sub-group of 12/30 patients had a BMI greater than or equal to 35kg/m2 of which 91.7% were successfully intubated on the first attempt. The authors also confirmed that i-view
™
shares the benefits of other video-enhanced Macintosh videolaryngoscopes:

• External laryngeal manipulation is facilitated as the view on screen can guide the anaesthetic assistant

• A bougie can still be used

• Axis alignment allows for easier tube placement at the cords and advancement into the trachea, compared to a hyper-angulated blade, because of the more traditional Macintosh geometry.

• The screen is very helpful for teaching airway management to novices

• The screen gives a full picture of the target area, excluding the teeth, lips and beard etc

In April 2020, the Journal of Clinical Monitoring and Computing published a randomised controlled study comparing i-view to another well-known video laryngoscope in super obese patients
2
. Both devices allowed for safe and effective intubation in super-obese patients (BMI >50kg/m2) and the hemodynamic response to videolaryngoscopy was similar between devices.

The most recent evidence is correspondence in the form of a letter to the editor of Minerva Anestesiologica, entitled, 'Emergency tracheal intubation in COVID-19 patients with the i-view video laryngoscope'
3
was published in December 2020. The authors retrospectively reported on the performance of the i-view
™
on a series of twenty patients with COVID-19 requiring intubation. Data was recorded for duration of intubation (power on to first CO
2
detection), number of intubation attempts, outcome, Freemantle score, use of airway adjuncts, whether cricoid force was applied, rescue technique in case of failure, lowest saturation and complications. In addition, a satisfaction score was included with a visual analogue scale (VAS) ranking from 1 (no satisfaction) to 4 (maximum satisfaction).

There were no failures, with 18/20 first pass success and 2/20 second pass success. Mean intubation time was <2 minutes in all cases. The Freemantle score was 17/20 with a full view and 3/20 with a partial view. The VAS satisfaction score was 4 (maximum satisfaction) for 18/20 cases and 3 for 2/20 cases. While the debate as to which is the best video laryngoscope has yet to be resolved, the authors of this letter concluded that, '

the possibility of having a completely (including screen) disposable and readily available device makes i-view
™
a potential candidate as optimal choice VL

.' While acknowledging that more data is required to draw any conclusions, 'we may hope that a good beginning bodes well'.

In conclusion, initial clinical evidence for i-view
™
is encouraging. Further evidence is awaited with great interest.
References
1. Mann J, Abell D, Sharafudeen S, Dasan J. 2017. i-view the future? Initial experience with a novel disposable videolaryngoscope. [Poster]. Kochi Advanced Airway Management Conference. July 2017
2. Gaszynski T. A randomized controlled study on the visual grading of the glottis and the hemodynamics response to laryngoscopy when using I-View and MacGrath Mac videolaryngoscopes in super obese patients. Journal of Clinical Monitoring and Computing 2020;
3. Corso R.M, Cortese G, Cataldo R, Di Giacinto I, Sgalambro F, Terzitta M, Aiello L, Maitan S, Sorbello M. Emergency tracheal intubation in COVID-19 patients with the I-view videolaryngoscope. Minerva anestesiologica 2020; 15265-9