Patient safety is a primary focus in the design of our product range and the below highlights the safety features of our anaesthetic breathing systems.
Integral patient monitoring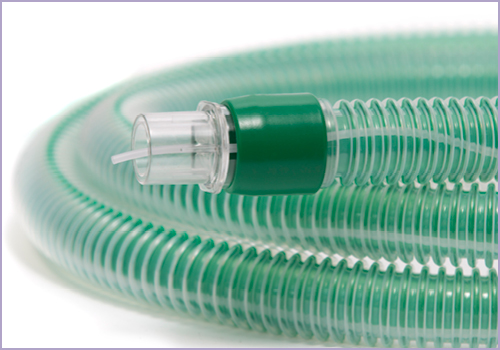 New guidance from the Association of Anaesthetists 'Recommendations for standards of monitoring during anaesthesia and recovery 2021' has been published, emphasising the importance of CO2 monitoring. The updated guideline now states that 'Capnography monitoring is essential at all times in patients with tracheal tubes, supraglottic airway devices and those who are sedated to a level unresponsive to verbal commands.'
Intersurgical offer three types of breathing system – Flextube, Uniflow and Duoflow - with the gas monitoring line conveniently and safely positioned inside the length of the breathing system. By anchoring the monitoring line securely inside the breathing system it provides optimal positioning for accurate and reliable gas monitoring and the need for additional luer ports in either the Y-Piece or breathing filter/HMEF device is eliminated. This avoids any possibility of accidental disconnection in use or misconnections further enhancing patient safety.
Silver Knight™ anti-microbial breathing systems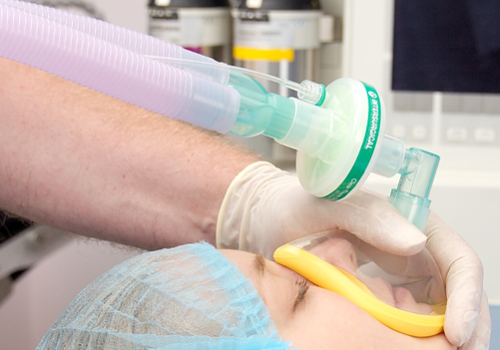 SARS-CoV-2 is likely to be with us for many months and perhaps years. It is clear that returning to more normal levels of surgical activity for a variety of reasons will be highly challenging.
Silver Knight™ breathing systems includes the addition of anti-microbial silver ions to Intersurgical breathing system Flextube™ that greatly reduces the viable microbial count level over time. The anti-microbial effects of silver are due to a number of reactions including catalytic oxidation and binding of silver ions to microbial machinery. These reactions effectively disable the bacteria and inhibit growth. Silver Knight™ has been proven to be effective by reducing viable bacterial count by 99.9%. Silver Knight has been tested and proven to help reduce the incidence of MRSA (Methicillan Resistant Staphylococcus Aureus) and other organisms such as E.Coli, Staphylococcus epidermis, Klebsielle pnuemoniae, Pseudomonas aeruginosa and Acinetobacter calcoaceticus from colonising the Flextube that makes up Intersurgical Silver Knight™ breathing systems.
Silver Knight™ anti-microbial breathing systems provide an additional weapon in the fight against potential cross contamination in the operating room. The adoption of Silver Knight™, along with appropriate breathing filters, provides a further opportunity to improve care and patient protection and reduce the risk of cross infection for routine general anaesthesia.
Push and Twist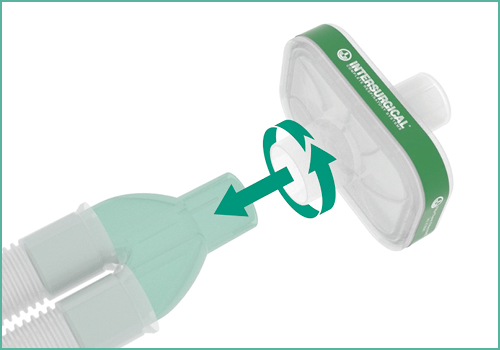 Intersurgical's unique Push and Twist feature ensures a secure, leak free fit every time. We maintain and control high-precision tolerances in the design and manufacture of all connectors to ensure a safe and secure connection. Using a simple push and twist method will create a gas-tight, leak-free seal.
Colour coded breathing filters, HMEs and HMEFs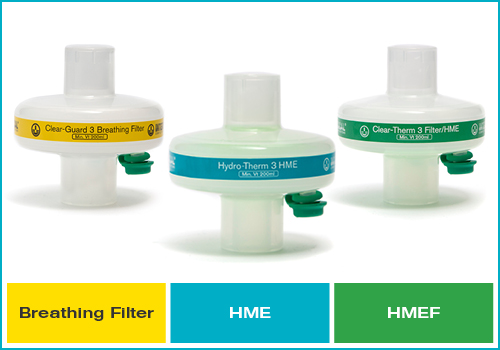 Due to the COVID-19 pandemic, there is a heightened focus among healthcare workers on the importance of infection control to protect both the patient and equipment from cross contamination.
The Intersurgical filter range provides an effective and proven barrier that prevents cross contamination between patients, respiratory equipment and the clinical environment. We provide a choice of electrostatic and pleated mechanical filters that have been independently tested and proven to be highly efficient, providing trusted protection against bacterial and viral cross contamination.
It is important that clinicians can make an evidence-based decision on which breathing filter or Heat and Mositure Exchanging Filters (HMEF) to use and in which position, both in the operating room and in the intensive care unit. All aspects of the products claimed performance is supported by both independent microbiological testing, and compliance with all of the state of art international standards.
In addition all of our breathing filters, Heat and Moisture exchangers (HMEs) and HMEFs ranges are all colour coded to ensure they are easily identified and the correct type of filtration/humidification at the appropriate position in the breathing system to prevent any potential harm to the patient.