Regulatory requirements and customer needs have driven Intersurgical to obtain certification of our Quality and Environmental Management Systems. We comply with the highest standards and regulations in order to legally design, manufacture, distribute and sell medical devices throughout the world and to give our customers confidence that our products are of the highest quality.
ISO 9001:2015 – Quality Management Systems
Certification to the internationally recognised Quality Management System ISO 9001:2015 enables Intersurgical to demonstrate commitment to quality and customer satisfaction. The framework of continuous improvement of company processes reinforces our corporate culture.

ISO 13485:2016 – Medical Device Quality Management Systems
The basis of all regulatory requirements for placing medical devices worldwide markets is ISO 13485:2016. Regular audits by SGS help to monitor and improve our management systems.

93/42/EEC – the Medical Devices Directive, The Medical Device Regulations 2002, 2017/745 – Medical Device Regulation
Access into European market and great Britain markets is made possible by certification to the Medical Devices Directive 93/42/EEC, the Medical Device Regulations 2002 and the Medical Device Regulation (EU) 2017/745. This enables CE and UKCA marking of all Intersurgical products. The combination of certification to previously mentioned regulations and ISO 13485:2016 is accepted for market entry in many countries.
ISO 14001:2015 – Environmental Management Systems
Customers are increasingly demanding environmentally responsible products and services. Intersurgical Ltd is certified to ISO 14001:2015, demonstrating commitment to minimising our environmental impacts. The system also provides a framework for managing the company's environmental aspects, and complying with relevant legislation.

MDSAP — Medical Device Single Audit Program
Certification to the MDSAP enables Intersurgical to satisfy the regulatory requirements of major medical device markets: Australia, Canada, Japan and the United States, by means of a single audit of Quality Management System.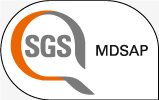 FDA 21 CFR 820 – Quality System Regulation, USA
All Intersurgical manufacturing sites are registered with the Food and Drug Administration (FDA), which enables Intersurgical products to be sold in the USA.
Product standards
Intersurgical products are designed to comply with applicable European and International product standards which ensures that performance requirements are met and that our products can be safely used with devices and equipment made by other manufacturers who work to the same standards.