We are committed to minimising the environmental impacts of our products, activities and services and to continually review and reduce our carbon emissions, with an aim to achieve Net Zero by 2045. We monitor and measured this through our Environmental Management System certified to the international standard ISO 14001:2015, and follow this framework to establish and ensure a sustainable approach across the business and throughout the lifecycle of our products.
Part of our commitment is a proactive approach to continuously improve our products and packaging, through material selection, with an aim to reduce their carbon emissions wherever possible.
In response to health and environmental concerns associated with Polyvinyl Chloride (PVC) we have focused on reducing its use, resulting in the development of Intersurgical Eco products, which provide an option with reduced environmental impact compared to traditional PVC products.
Innovative manufacturing
We are constantly striving to improve our environmental performance at our global manufacturing sites, by reviewing our processes and investing in the latest energy saving equipment to proactively reduce our overall environmental impact.
Utilisation of state of the art manufacturing technology has enabled us to combine two non-PVC materials in a number of our mask products. The polypropylene material forming the body of the mask is clear, lightweight and rigid enough to maintain the mask's shape, whilst the second softer TPE is utilised in the manufacture of the seal, which is in contact with the patient's face.
The use of these materials has resulted in oxygen, aerosol and anaesthetic face masks with a significantly reduced environmental impact and improved patient comfort providing a more environmental option.
Lower environmental impact products
We have many products in our range which do not contain any PVC. However, our Eco products have been designed as part of our ongoing focus on sustainable development.
Wherever you see the logo in our catalogues and website, we have reduced the environmental impact of these products compared to traditional PVC options, providing a more environmentally friendly choice.
Comfortable for the patient
Comfortable for the environment
The Intersurgical Eco range
Eco range logo
Our Eco logo is used next to our products which are more environmentally friendly.
Comfortable for the patient
Comfortable for the environment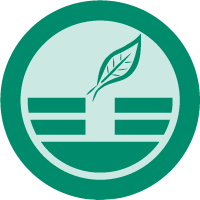 Intersurgical EcoLite™ adult oxygen and aerosol masks
Medium concentration oxygen mask
Aerosol mask
Sentri™ ETCO2 mask
FiltaMask™
High concentration oxygen mask
Venturi valve mask kits
Tracheostomy mask
Nebuliser mask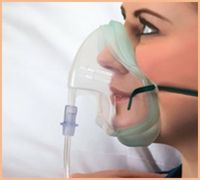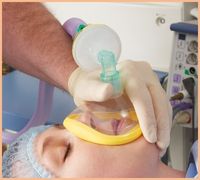 Intersurgical EcoLite™ paediatric oxygen and aerosol masks
Medium concentration oxygen mask
Aerosol mask
Nebuliser kits

Breathing systems
Eco Smoothbore breathing systems for passive humidification
Eco Smoothbore breathing systems for active humidification
22mm Eco Smoothbore tubing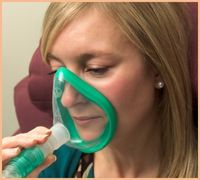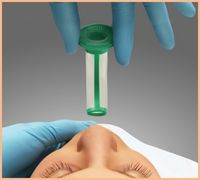 Life Cycle Assessment (LCA)
Comparing the environmental impact of products
We have used SimaPro 8 Life Cycle Assessment (LCA) software to assess the environmental aspects of our products following the ISO standards 14040:2006 and 14044:2006. By analysing the materials, packaging, energy used in manufacturing and disposal methods, this software enables us to quantify the environmental impact of our products, giving us a number in units of Eco millipoints.
The following examples illustrate the reduction of environmental impact between a traditional PVC oxygen mask and the Intersurgical EcoLite™ oxygen mask, and a traditional PVC anaesthetic face mask and the ClearLite™ anaesthetic face mask.
We have produced a video which highlights how changing from PVC masks to Intersurgical EcoLite™ masks has the potential to help healthcare providers reduce the amount of clinical waste they generate.

Products with lower Eco millipoints are more environmentally friendly, the Intersurgical EcoLite™ shows a 69% reduction in environmental impact.1
| | | |
| --- | --- | --- |
| Code | Description | Eco millipoint score |
| 1136015 | Intersurgical EcoLite™, adult, medium concentration oxygen mask - non PVC | 6.78 |
| 1116000 | Adult, medium concentration oxygen mask with nose clip - PVC | 22.1 |
Products with lower Eco millipoints are more environmentally friendly, the ClearLite™ shows a 72% reduction in environmental impact.2
| | | |
| --- | --- | --- |
| Code | Description | Eco millipoint score |
| 7294000 | ClearLite™ anaesthetic face mask, size 4, adult, green seal, 22F - non PV | 8.07 |
| 1515000 | Economy anaesthetic face mask, size 4, medium adult, 22F - PVC | 28.4 |
References: 1. Life Cycle Assessment (LCA) Comparison of non-PVC and PVC Oxygen Masks (issue 2). 2. Life Cycle Assessment (LCA) Comparison of non-PVC and PVC Anaesthetic Masks (issue 2)